pssst... i gots a secret over here...
I'm going to post this for theraputic reasons, and I'm choosing this venue because I know that I can trust you all not to spread this around.
I really want to see the Dukes of Hazzard. Like, really
really
.
I already sorta wanted to see it just from casting info (johny and stiffler? c'mon.) But then? At Batman Begins? I saw the theatre trailer. I, uhm, kinda got goosebumps when I heard the General Lee whistle dixie.
Please please please don't tell.
I do not, however, want to see Herbie; Fully Loaded. That you may repeat.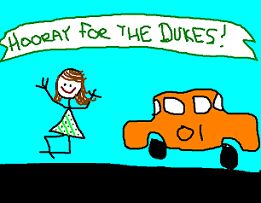 arrivederci, rebecca marie