injustice is served
'Member how exciting school supplies were? All of those pristine number twos with virgin erasers, the brand new (cardboard, not that plastic crap of today) pencil box, un-deadly scissors, glue, all of it was downright magical.
Well,
Janni Laine
was two grades ahead of me, so for TWO WHOLE YEARS I had to watch
her
get the booty. Watch
her
walk to school with her friends. Watch
her
use and abuse the beautiful supplies. It was a long and tragic two years.
So imagine my glee when I finally arrived at August, 1978. It. Was. My. Turn. I went shopping at Gladstone Thriftway for all of my beautiful supplies. It was as if all my birthdays and Christmases came in one day. The crowning glory of the lot was my purple plastic ruler. That's right. A purple plastic ruler. No wooden piece of garbage for me. I was ready to begin my training for future MENSA membership.
Until
Janni Laine
ruined it all. Yes.
RUINED
. She chose five minutes before we needed to walk out the door as her moment. She decided to misbehave. My mother, in a scramble for an appropriate tool, grabbed my ruler. As you probably assume, purple plastic rulers do not hold up as spanking implements. My ruler was a loss.
I'm still incomplete.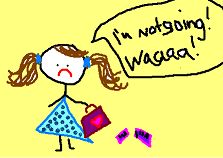 arrivederci, rebecca marie