ladies and gentlemen... introducing...
ROGER!
born september the 20th, 2006 at 4:00 a.m.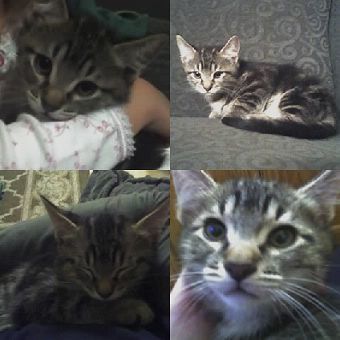 apparently, i needed another kitty to heal my heart. i thought i would at least wait until after the new year, but waiting wasn't in the stars, as it turns out. i was looking at craigslist, and this little feller needed a home and free is a very good price.
i'm not particular about
READERS! WE INTERUPT YOUR BLOG READING FOR A VERY IMPORTANT SERVICE ANNOUNCMENT:
IT IS TIME TO THROW AWAY YOUR PUMPKINS. I REPEAT. IT IS TIME TO THROW AWAY YOUR PUMPKINS! HALLOWEEN IS OVER.
NOW RETURNING TO YOUR REGULARLY SCHEDULED BLOG.
breed of cat, so it's very easy for me to choose. dog... different story. i'm very particular about dogs, but a cat, man... any little furball that will pur for me melts my heart.
so, our family is whole again. hooray for little wobbly furballs!
arrivederci, rebecca marie